Smart-premises self-monitoring and flexible control services delivered in an easy-to-deploy, user-friendly format are sure to increase customer satisfaction and lead to increased demand – and more revenue for service providers.
Clear2there makes it easy for any service provider to take advantage of the secure, direct network connection you already have with your subscribers. By leveraging your investment in broadband and high speed network capabilities and implementing Clear2there's Viewbiquity- and InfiniVi-based solutions, you can provide offsite video storage and business automation solutions to your customers.
Cloud Video Storage
With InfiniVi in your data center, you can provide your customers with cloud video storage services at prices your competition will simply be unable to match.
InfiniVi is the most cost-effective, energy efficient, centralized media storage solution on the market today.
Custom Branded Automation
Clear2there's business automation suite, powered by Viewbiquity, enables you to easily and efficiently deliver both pre-packaged and customized value-added services to your customers, all under your own brand. Services for businesses can include advanced capabilities such as energy phase management, video integrated point-of-sale, HVAC, commercial equipment monitoring and more.
Viewbiquity is an open-architecture eco-system that enables automation, energy management, productivity, and M2M systems to be created and deployed in JavaScript and HTML.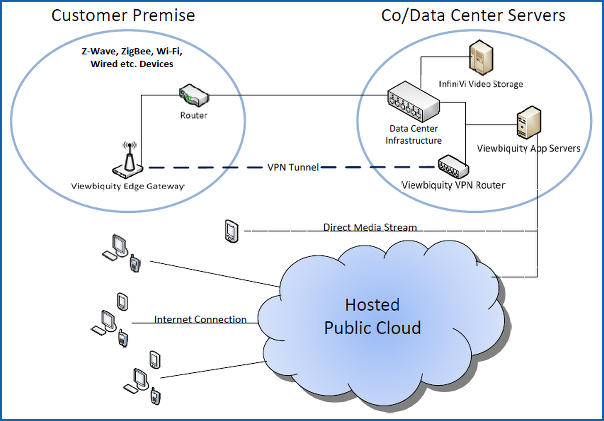 Service Provider Benefits
Boost Recurring Revenue
Increase your revenue through value-added services that enhance your customers' productivity, reduce their costs and provide peace of mind.
Remote, Interactive Access
Provide your customers with remote access to their devices from anywhere. They can receive alerts via any combination of text, text-to-speech, email and voice, and enjoy convenient command and control of their devices.
Reduce Time to Market
Hit the ground running with Clear2there's pre-packaged solutions for the home and small business, branded under your company name and supported by us.